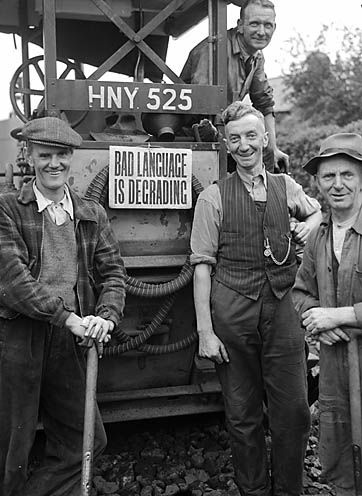 Teitl Cymraeg/Welsh title: Arwydd "Bad Language is Degrading" ar rholer metlin
Pontardawe.Ffotograffydd/Photographer: Geoff Charles (1909-2002).
Nodyn/Note: An image of Tommy Jones, Arthur Lewis (Llanrhidian), Dennis Parkin (Bridgend) and Emrys Davies (Penclawdd) standing with the steam roller which had a sign that read "Bad Language is Degrading" on it. .
Dyddiad/Date: September 14, 1951..Cyfrwng/Medium: Negydd ffilm / Film negative.Cyfeiriad/Reference: (gch14502).Rhif cofnod
Geoff Charles was a photojournalist who worked for over 50 years capturing images of Wales with his camera. From the 1930s onwards he worked extensively in north and mid Wales for newspapers such as The Wrexham Star, The Montgomeryshire Express and Y Cymro. On his retirement in 1975 he gave his collection of about 120,000 negatives to The National Library of Wales. The work of digitising this enormous collection began in 2000, and at present just over 30,000 of his images of Wales in the 1940s, 1950s and 1960s are available on the National Library's website.