History and its visible remains are thickly layered across the dramatic and beautiful landscape of Pembrokeshire.
Using the ancient trackways of the Christian pilgrims, which are often still planted with their flowering laburnum trees, you can trace the connections between settlements, such as the rebuilt Iron Age thatched roundhouses at Castell Henllys near Eglwyswrw and the many bronze age burial sites such as the superb Pentre Ifan, one of the finest in Britain!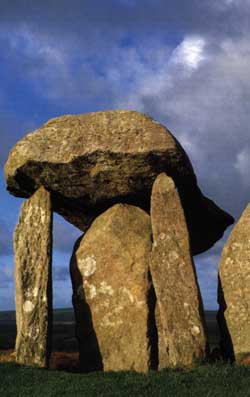 These huge stones once marked the entrance to the burial mound, and as you stand beneath them you can see the same unspoilt view of Cardigan Bay [and some say as far as Ireland!] as their builders must have done.

In a beautiful Norman church on an ancient site in the pretty village of Nevern, you will find the much older Ogham script carved into the stone of the church windowsill. The letters in the oldest Ogham inscriptions are made, 
by carving notches on either side of, or across, the edge of the stone. You can just make out the faint lines on the edge of the window sill.
In the church you can find information to help you decipher the code. Why not try working out how your own name would be written in Ogham.
The magnificent huge wheel headed Celtic Cross stands like a sentinel to the ancient past in the atmospheric churchyard. While you are there, look out for the historically famous 'bleeding yew' which constantly drips blood red sap!
Painters and artists such as Turner and deWint were also intrigued by the historic atmosphere of Pembrokeshire, and included it as part of their 'grand tour'.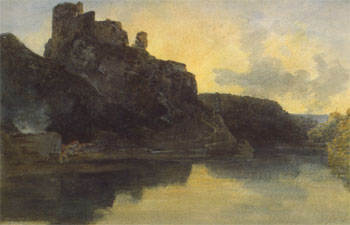 The mighty and imposing 13thCentury Cilgerran Castle, overlooking the steep wooded Teifi River.
This scene is still pretty much as it appears today, and in the late evening at the end of dusk you can still see men fishing in the Teifi with nets slung between their coracles.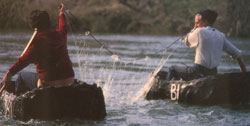 These ancient designed boats made of skin and branches are very similar to the Irish curragh, and this activity has barely changed in thousands of years.
Article saved from archive.org