A sod-cutting ceremony to mark the beginning of construction at Grŵp Cynefin's Llys Awelon, Ruthin, brought together all partners involved in the major £12.2 scheme to update and extend the Extra Care Housing facility.
Grŵp Cynefin Chief Executive Shan Lloyd Williams, the Council's Chief Executive Graham Boase, Director of Read Constuction Wiliam Jones, and other key officers involved in the ambitious project, celebrated the ceremony on the site close to Ruthin town centre.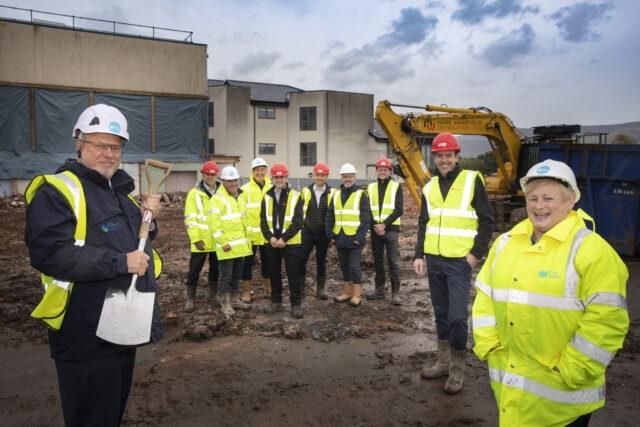 Pictured (front L/R) Graham Boase, Chief Executive of the Council; Wil Jones, Commercial Director Read Construction and Shan Lloyd-Williams, Chief Executive of Grwp Cynefin.
Picture credit: Mandy Jones
The project means completely redeveloping the present Llys Awelon to create a modern, low carbon, bespoke scheme to meet the needs of older people in the Denbighshire area. It will offer additional 35 one and two bedroom flats to the existing 21 flats, within a purpose-built building with communal areas such as gardens, lounges, a restaurant and a hairdressing salon.
The project involves working alongside the current facility, causing as little disruption as possible to the residents and staff and eventually updating that facility to the same low-carbon, high standard specification.
The project is a partnership between the Council, Grŵp Cynefin and the Welsh Government and is supported by £7.1 million of Welsh Government Social Housing Programme funding.
With schemes at Holyhead, Bala, Porthmadog, Denbigh and Ruthin, Grŵp Cynefin's Extra Care Housing offers residents an independent lifestyle with additional support and care should they need it.
Shan Lloyd Williams, Grŵp Cynefin Chief Executive said: "We are proud to be able to work closely with Denbighshire Council and the Welsh Government to offer the highest standard of service at Llys Awelon, Ruthin, which will be a modern and valuable resource for the area. Read Constructions have been involved from the start, due to the complexity of the project and it's proving to be a productive collaboration, with all teams working incredibly well to realise this ambitious project.
"Such projects bring together Grŵp Cynefin's best qualities – expertise in Extra Care Housing and important principles – innovation in our construction methods using materials and technology to achieve low or zero carbon, and our ability to bring partners together to deliver ambitious and innovative schemes for the benefit of our communities."
Councillor Elen Heaton, Cabinet Lead Member for Health and Social Care, said: "We are really proud to work with Grŵp Cynefin on such an important project as Llys Awelon, Ruthin, to help and support Denbighshire residents.
"It is a real privilege to mark the start of such an important and beneficial project that will greatly support our residents by giving them the means to live independently and provide them with high quality housing that meets a wide range of needs.
"I look forward to the completion of this work and seeing the benefits it will bring to our residents."
Wiliam Jones, Read Constructions Director said: "As a North East Wales based company, Read are delighted to have commenced work on our latest extra care scheme for Grŵp Cynefin. This £12m redevelopment of their Llys Awelon site in Ruthin has a strong local emphasis with local design team and supply chain partners. Throughout the scheme, Read are committed to supporting the local town and surrounding communities through reinvestment of the local pound and work opportunities."
Post from Denbigshire Council